DR4088GND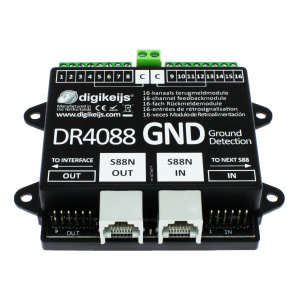 DR4088GND 16-channel feedback module S88N

This feedback module with 16 integrated occupancy indicators is designed for the 3rail AC system. The module comprises 16 indication points with a double common connection. The network connections allow the modules to be placed up to 10 meters from each other. The special IB connector makes it possible to use an STP cable from the IB. 16 channels Activity indicator LED Suitable for 3-rail system Standard S88 and STP connections (S88-N) Small solid housing by applying SMD techniques



Application: Three-rail AC system (ground connected) with s88N connection.